Friends of the Cabildo Calendar of Events
FOC Adult History Class "Neighborhoods of New Orleans"
New Orleans Jazz Museum at the Old U.S. Mint | 400 Esplanade Avenue
May 23rd-June 20th | Every Wednesday night at 6:00 p.m., $200 G.A., $150 Members
Love History? Have you ever wondered why you neighborhood is shaped the way it is or how it got its name? Friends of the Cabildo's annual Adult History Class: Neighborhoods of New Orleans will break down the neighborhoods with five two-hour lectures. From the French Quarter to Bayou St. John, to Carrollton and to the suburbs of the metro area, historians Dr. Karen Leathem (LSM), Dr. Charles Chamberlain (UNO) and LSM historian Joyce Miller will explore these neighborhoods and breakdown the stories of their founding, their culture and the people that used and now make them up.
May 23: French Quarter and CBD
May 30: Downriver neighborhoods
June 6: Uptown (Garden District, Jefferson City and Carrolton)
June 13: Mid City, Broadmoor and Gentilly
June 20: Suburbs of New Orleans
Researching Your New Orleans Property: Home Research Seminar
Saturday | June 23rd | 9:30 a.m. (Registration 9-9:30 a.m.)
Tickets: $25 G.A., $20 FOC/LMF Members
Robert J. Cangelosi Jr., an adjunct lecturer at the Tulane University School of Architecture, will present an in-depth program on historic home research at the Old U.S. Mint at 9:30 a.m.
"If walls could talk, you would know everything about your property: who previously owned it, who slept in it, how old it is, and what secrets it holds." Cangelosi, will outline how to develop the history of your property, using primary sources rather than oral traditions and secondary sources, which often are incorrect. Preparation of a "chain of title," the essential first step in developing a history, will be discussed. The chain document the ownership of a property, which in theory, can be taken back to the early 1700s, during the French Colonial period. The "chain of title" relates to the property, not the improvements, and rarely will the chain alone indicate when improvements were made. Like history detectives, determining when improvements were done involves research into various records, including census, tax, water, building permits, contracts, city directories, newspapers, and more. This program will explain how these records can be used and where to find them.
Treme Cultural Tour

Wednesday, May 23rd | 10 a.m.
Tickets: $20 Members | $25 General Admission
Departure Point: Basin Street Station (in front of the building, 501 Basin Street)
The Friends of the Cabildo walking tour of Treme provides a rich, detailed perspective on one of the city's oldest and most storied neighborhoods. Originally known as "back of town," the old Creole feel of Treme makes it easy to imagine the early 1800s multicultural community formed by immigrants, free people of color, and refugees from Saint-Domingue. An important center of the city's African-American and Creole culture, Treme is the cherished home of fourth and fifth generation residents who strive to maintain the area's cultural and social traditions. We will trace the origin and development of Treme through the amazing nineteenth century architecture (including Creole cottages, townhouses, and shotgun houses), geography, and urban influences dating from the subdivision of this land by Claude Treme in the 1790s to the present day.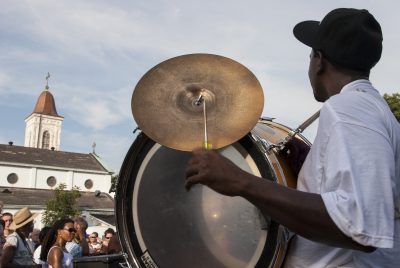 Creole Neighborhoods (Marigny) Tour

June 3rd | 10 a.m.
Tickets: $20 Members | $25 General Admission
Departure Point: New Orleans Jazz Museum at the Old U.S. Mint (Esplanade Ave. Gates)
Faubourg Marigny was one of the City's earliest suburbs, located immediately downriver from the Vieux Carré on land subdivided from the plantation of Bernard Marigny de Mandeville, one of New Orleans most colorful historical figures. Today, the Marigny is listed on the National Register of Historic Places and is a city-designated historic district, due to its preservation of Creole cottages and many ornamented shotgun dwellings.
Initially, Esplanade Avenue was designated by the French as a commons. In later years, both the French and Spanish built fortifications there. After the Louisiana Purchase, grand townhouses and mansions were built on this European style boulevard.
Battle of New Orleans Tour

Saturdays: June 9th & July 14 (11 a.m. Tours)
Tickets: $20 Members | $25 General Admission
Departure Point: 1850 House Museum Store (523 St. Ann Street)
The Battle of New Orleans was a defining event in America's national identity. The Friends of the Cabildo's Battle of New Orleans tour offers a fascinating look at the battle away from the battlefield, from lost locations of forts that protected the city, to Jackson's headquarters, to events in the French Quarter related to the unfolding battle. First developed for the Bicentennial of the Battle of New Orleans, the tour continues to draw historians, locals, and guests for a unique perspective on this turning point in American history.
New Orleans Jazz Tour
Saturday: May 26th | 10 a.m.
Tickets: $20 Members | $25 General Admission
Departure Point: New Orleans Jazz Museum at the Old U.S. Mint (Esplanade Avenue gates)
This tour starts with the birth of Louis Armstrong in Black Storyville in 1901, and explores what influenced him during the early years of jazz. Then we explore how jazz continued to develop in New Orleans after Louis left in 1922. We will focus on the New Orleans jazz men and women who stayed in the city and continued to play here. This will include the "revival" of jazz in the 1940's, the advent of Preservation Hall in the 1960's, and will bring us all the way to the present. This tour combines several important, historical sites like George Lewis' home, Preservation Hall, and the George H. Buck Foundation (the largest catalog of authentic jazz in the world) with a great playlist. The tour includes tunes from Louis Armstrong's early recordings, recordings from New Orleans jazz greats from the past, and tunes from some of our greats that are alive and swinging in New Orleans.
New Orleans Rhythm & Blues
Friday: May 25th | 3 p.m
Tickets: $20 Members | $25 General Admission
Departure Point: Corner of Royal & St. Phillip streets (McDonogh #15 corner)
Between 1947 and 1965 Cosimo Matassa recorded 250 national charting singles, including 21 gold records in his three different recording studios in the French Quarter. This tour visits all three former studios and enjoy a huge playlist of best New Orleans rhythm and blues hits. Great history, great stories and wonderful tunes. Everything from Good Rockin' Tonight by Roy Brown in 1947, to Tutti Frutti by Little Richard in 1955, to Tell It Like It Is by Aaron Neville in 1966. And, of course, lots of Fats Domino and Allen Toussaint. We'll explore how R&B developed in New Orleans, and follow Cosimo's career, all the way to the Matassa Market, the family business on Dauphine Street where he retired in the 1980s. Matassa was inducted into the Rock and Roll Hall of Fame in 2012, and his first studio, the J&M Music Shop, on Rampart Street is the 11th historic American rock 'n' roll landmark.
Irish Channel Tour
Saturday | July 21st | 10AM
Tickets: $20 Members | $25 General Admission
Departure Point: St. Vincent's Guest House (1507 Magazine St.)
Most New Orleanians have enjoyed a sloppy roast beef poboy at a legendary Irish bar off Magazine Street, or caught cabbages, potatoes and carrots at the annual St. Patrick's Day Parade. But not everyone has stopped to consider the history of the immigrant populations who lived and worked near the docks along the Mississippi River, their culture and traditions forming the foundation of the area we now know as the Irish Channel. The Friends of the Cabildo's Irish Channel Tour explores this diverse home of working class immigrants, natives and free people of color. From famous churches to Irish bars, unique architecture, famous historic figures and notable festivals, the Irish Channel Tour reveals the many facets of this neighborhood beloved by locals and visitors alike.
Garden District Tour
Sunday: May 27th | 10:00 a.m.
Tickets: $20 Members | $25 General Admission
Departure Point: 1452 Jackson Avenue (Riverside corner at Prytania Street)
Most residents and visitors alike know of the Garden District as a stunning neighborhood full of Greek Revival and Italianate architecture, bounded by Jackson, St. Charles, and Louisiana avenues, and Magazine Street. But do you know who established the Garden District? What part did the NO & Carrollton Railroad play? Why do we always hear tour guides reference "Lafayette" and "Livaudais?" Discover the answers to those questions and more when exploring the Garden District with the Friends of the Cabildo. As we unveil the Garden District's incredible architecture, and the influence of culture, climate, political events, and famous figures on the area, you will see these grand residences as more than just beautiful houses; they are the enduring statements of mid-nineteenth century Americans in New Orleans.
Second Thursday Lecture Series
New Orleans Jazz Museum at the Old U.S. Mint, 400 Esplanade Ave.
June 14 (6PM): "Bayou St. John Through the Centuries" — Cassie Pruyn
Admission is free and open to the public. For more information, contact 504.523.3939.
Yoga at the Cabildo
Designed for all levels of practice, for travelers and residents alike, Yoga at the Cabildo is set in a light-filled gallery of one of the city's most beautiful and historic buildings.
Tuesday, Thursdays, Saturdays
8:30am to 9:30am NOTE TEMPORARILY AT THE PRESBYTERE (751 CHARTRES)
$15 Donation (includes admission to Cabildo Museum) $10 FOC/LMF members
Mats are provided