FOC Annual Symposium
December 9-10 | Old U.S. Mint
Keynote: William C. Davis
Privateers, Slavery, and the Enterprise of the Brothers Laffite
Historians have discovered large amounts of information regarding the legal slave trade and New Orleans as the most important slave trading market in the United States during the Antebellum period. However, the illicit slave trade supported by privateers, pirates and businessmen is less understood.
Despite the banning of importing slaves by the federal government in 1808, a huge market for slaves existed in Louisiana and these networks provided access to cheaper slaves and without documentation. Privateer Jean Lafitte and Jim Bowie are just two of the most well-known names associated with this trade network.
This symposium will explore this illicit slaved trade and some of the important figures of this period in American History. The importance of Louisiana and the Gulf South to the Atlantic Slave Trade will also be explored as well.
Tickets: $80 Members/$90 General Admission
Schedule of Events
Friday, December 9
6:30 p.m. Keynote Speaker: William C. Davis
Privateers, Slavery, and the Enterprise of the Brothers Laffite
7:15 p.m. – 8:30 p.m., Opening Reception
Saturday, December 10
9:00 a.m. – 9:30 a.m. – Registration
9:30 a.m. – 9:45 a.m., Dr. Charles Chamberlain – Symposium Introduction
9:45 a.m. – 10:45 a.m., Dr. Kevin Harrell (Historic New Orleans Collection)
The Shadow Voyage: The Story of the Clotilda, America's Last Slave Ship
11:00 a.m. – 12:00 p.m., Dr. Robert Paquette (Alexander Hamilton Institute)
"That Inhuman Traffic": Jefferson, Louisiana, and the Ending of the Slave Trade and Slavery in the United States
12:00 – 1:00 p.m. Lunch
1:15 p.m. – 2:15 p.m., Dr. Erin Greenwald (Historic New Orleans Collection)
Caught between Empires: The Legal Status of "Créoles de St. Domingue" Claimed as Property in Louisiana, 1794-1810
2:30 p.m. – 3:30 p.m., Dr. Randy Sparks (Tulane University)
The Tragic Voyages of the Brig Uncas: New Orleans and the Illegal Slave Trade
3:45 p.m. – 4:45 p.m., Dr. David Head (University of Central Florida)
Slave Smuggling Privateers in the Spanish Borderlands: Geopolitics and the Illegal Slave Trade
Creole Christmas Holiday Home Tour
December 27-29 (10 a.m.- 4 p.m.) | 1850 House Museum Shop
Tickets: $20 FOC/LMF Members, $25 General Admission
Step back in time and join the Friends of the Cabildo for a Creole Christmas Holiday Home Tour! Visit five of the French Quarter most cherished properties adorned in traditional Creole Christmas finery befitting the time and style of each historic residence. Featured homes include the Louisiana State Museum's 1850 House, Gallier House, Beauregard-Keyes House, Spring Fiesta House and the Historic New Orleans Collection's Williams Residence.
Your Creole Christmas tour experience includes an entertaining presentation of Reveillon traditions and their Creole origins at the Spring Fiesta House as well as an assortment of scrumptious seasonal refreshments.
Self-guided tour begin at the 1850 House Museum Shop located at 523 St. Ann Street on Jackson Square, December 27-29 from 10 a.m. to 4 p.m. You can purchase tickets at the book now button, by calling the Friends of the Cabildo office at (504) 523-3939 or on the day of the tour at the 1850 House Shop or by calling the shop at (504) 524-9118.
Battle of New Orleans Tour
Wednesdays, December 14th & January 11th, 10 a.m.
Tickets: $20 Members/$25 General Admission
Departure Point: Old U.S. Mint (Esplanade Entrance)
The Battle of New Orleans was a defining event in America's national identity. The Friends of the Caildo Battle of New Orleans tour offers a fascinating look at the battle away from the battlefield, from lost locations of forts that protected the city, to Jackson's headquarters, to events in the French Quarter related to the unfolding battle. First developed for the Bicentennial of the Battle of New Orleans, the tour continues to draw historians, locals, and guests for a unique perspective on this turning point in American history.
New Orleans Music History Tour
Saturday, December 17th, 10 a.m.
Saturday, January 28th, 10 a.m.
Tickets $20 Members/$25 General Admission
Departure Point: Old U.S. Mint (Barracks Entrance, across from LA Pizza Kitchen)
Experience the storied history of New Orleans music with the FOC's New Orleans Music History Tour. Begin at the Old U.S. Mint and travel throughout the French Quarter, hear stories and visit locations that have defined the New Orleans music scene for over 100 years. Musicians such as Louis Armstrong, Sidney Bechet, George Lewis and Danny Barker will be discussed as well as famous music venues such as Preservation Hall and the Palm Court Jazz Club.
Lower Garden District Tour
Sunday, January 8th, 10 a.m.
Tickets $20 Members/$25 General Admission
Departure Point: Muses Statue (Prytania and Terpsichore)
Nineteenth century residential life in New Orleans comes alive through the Friends of the Cabildo Lower Garden District Tour! The district's extensive collection of 1800s residences—primarily side hall, double-galleried homes in the Greek Revival and Italianate styles—will capture your imagination with both the romance and realities of life in these grand homes in the age before modern conveniences. Bounded by the Mississippi River Bridge, the Mississippi River, Jackson Avenue, and St. Charles Avenue, the Lower Garden District was developed as six different faubourgs, and it is known for its many irregularly shaped parks. You will gain a new understanding of the history and culture of the area through a review of its architecture, geography, and famous residents.
Treme Cultural Tour
Sunday, December 18th, 10 a.m.
Saturday, January 7th, 10 a.m.
Tickets $20 Members/$25 General Admission
Departure Point: Basin Street Station, 501 Basin Street
This walking tour of Treme provides a rich, detailed perspective on one of the city's oldest and most storied neighborhoods. Originally known as "back of town," the old Creole feel of Treme makes it easy to imagine the early 1800s multicultural community formed by immigrants, free people of color, and refugees from Saint-Domingue. An important center of the city's African-American and Creole culture, Treme is the cherished home of fourth and fifth generation residents who strive to maintain the area's cultural and social traditions. We will trace the origin and development of Treme through the amazing nineteenth century architecture (including Creole cottages, townhouses, and shotgun houses), geography, and urban influences dating from the subdivision of this land by Claude Treme in the 1790s to the present day.
Irish Channel Tour
Saturday, January 21st, 10 a.m.
Tickets $20 Members/$25 General Admission
Departure Point: St. Vincent's Guest House
(1507 Magazine Street)
Most New Orleanians have enjoyed a sloppy roast beef poboy at a legendary Irish bar off Magazine Street, or caught cabbages, potatoes and carrots at the annual St. Patrick's Day Parade. But not everyone has stopped to consider the history of the immigrant populations who lived and worked near the docks along the Mississippi River, their culture and traditions forming the foundation of the area we now know as the Irish Channel. The Friends of the Cabildo's Irish Channel Tour explores this diverse home of working class immigrants, natives and free people of color. From famous churches to Irish bars, unique architecture, famous historic figures and notable festivals, the Irish Channel Tour reveals the many facets of this neighborhood beloved by locals and visitors alike.
Creole Neighborhoods Tour
Wednesday, December 7th, 10:30 a.m.
Wednesday, January 11th, 10:30 a.m.
Tuesday, January 31st, 10:30 a.m.
Tickets $20 Members/$25 General Admission
Departure Point: Old U.S. Mint (Esplanade Gates)
Faubourg Marigny was one of the City's earliest suburbs, located immediately downriver from the Vieux Carré on land subdivided from the plantation of Bernard Marigny de Mandeville, one of New Orleans most colorful historical figures. Today, the Marigny is listed on the National Register of Historic Places and is a city-designated historic district, due to its preservation of Creole cottages and many ornamented shotgun dwellings.
Initially, Esplanade Avenue was designated by the French as a commons. In later years, both the French and Spanish built fortifications there. After the Louisiana Purchase, grand townhouses and mansions were built on this European style boulevard.
Faubourg St. Mary Tour
Saturday, January 14, 10 a.m.
Tickets $20 Members/$25 General Admission
Departure Point: World War II Museum Main Entrance
Walking along the busy concrete sidewalks of the Central Business District today, it is difficult to imagine that the streets now shaded by skyscrapers were originally part of Belair, the plantation of city founder Bienville—part of his 1719 land grant which stretched to the present-day Jefferson Parish line. The Friends of the Cabildo Faubourg St. Mary walking tour reveals the history behind the present day commercial district, from the plantation beginnings through the explosive American growth during the peak years from 1830–1860, to the present day. Marvel at historic buildings on Lafayette Square, St. Charles Avenue, Julia Street, Lee Circle, and more! This tour provides a historic backdrop for a new appreciation of the American Sector.
South Market District Tours



TBA
Tickets $20 Members/$25 General Admission
Departure Point: Rouses, 701 Baronne St., (Corner of Girod and O'Keefe)
A booming area of revitalization at the intersection of the Central Business District, Medical District, and the sports/entertainment corridor of downtown, the South Market District is experiencing a renaissance placing it squarely in the up-and-coming areas of the city. But what was the historical significance of South Market before the construction projects? What are the stories behind the buildings being redeveloped as apartments, condominiums, hotels, and restaurants?
Join the Friends of the Cabildo as we examine the fascinating mix of adaptive reuse, historic preservation, and new construction in the "Old CBD." This one-time tour of rapidly transforming South Market will provide a unique snapshot of techniques used to resurrect this district while preserving its historic character.
2nd Thursday Lecture Series
December 8 @ 6 p.m. | Old U.S. Mint – 400 Esplanade Avenue
Archivist Howard Margot
Howard Margot is a native and tenth-generation New Orleanian, and an alumnus of the University of New Orleans, Louisiana State University, and Tulane University, where he earned a master's degree in French literature and linguistics; he also attended the École des Beaux-Arts in Nîmes and the Institute of Political Studies in Paris. Since 2001, he has been working as an archivist, first at the New Orleans Notarial Archives and since 2006 at The Historic New Orleans Collection, where he is also a curator of several of THNOC's online databases, including the Vieux Carré Survey and Surrey Calendar. He is also the lead consultant on the Louisiana State Museum's project to put its French Superior Council and Spanish Judicial Records online. While his passion is poring over and translating the French and Spanish manuscripts of colonial Louisiana, his primary responsibility these days is helping archives to "go digital."
Admission is free and open to the public. For more information, contact Cody Scallions at cscallions@crt.la.gov or 504.568.2123.
FOC Carnival Events
Hidden Treasures: Carnival Edition
Monday & Thursday, February 13 & 16 (6 & 7 p.m. Showings)
LSM Collections Facility: 1000 Chartres Street
Tickets: $20 Members, $25 General Admission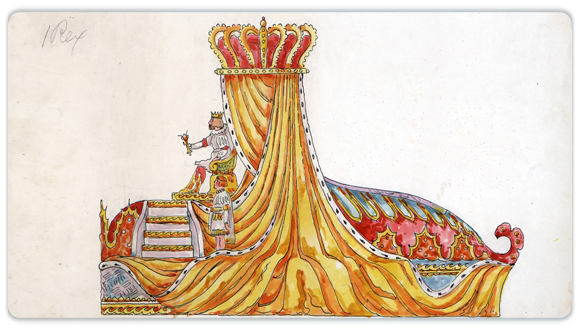 Rex Den Showing
Saturday, February 4 (10 a.m. – Noon)
Rex Den: 2531 S. Claiborne Avenue
Tickets: $20 Members, $25 General Admission
Some of the greatest musicians of all time can immediately be recognized by just a few notes. But few musicians have displayed this talent quote like New Orleans jazz legend Sidney Bechet. A throbbing vibrato and passionate rhythmic attack combined to create Bechet's signature sound. The cadence allowed him to outshine nearly every other musical on the bandstand.
A sound so big and full of life, its only match was the personality of its creator. If the soul of a man ever revealed itself through an instrument, it was this charismatic, proud and sometimes erratic New Orleans Jazz pioneer.
Join Friends of the Cabildo and Louisiana State Museum Music curator David Kunian for this one night, behind-the-scenes look at the fascinating life and legendary music of Bechet.
To order tickets online click book now or call the FOC Office at (504) 523-3939. Space is limited to 20 guests per showing.
FOC members receive a 15% discount on all purchases and we sell the Krewe of Rex Merchandise!
Purchase Museum Tickets using the Book Now button
Yoga at the Cabildo
Designed for all levels of practice, for travelers and residents alike, Yoga at the Cabildo is set in a light-filled gallery of one of the city's most beautiful and historic buildings.
Tuesday, Thursdays, Saturdays
8:30am to 9:30am Cabildo 2nd-Floor Gallery
$12 Donation (includes admission to Cabildo Museum) $8 FOC/LMF members
Mats are provided